I really WANT to be crafty, thoughtful, and genius all the time. When it comes to gift-giving, I want to give THAT gift. That one that takes the teacher's breath away, and makes her stop to reflect on how much she loves our family. 😉
Then record scratch, scrrrrrrreeeeaaachhhhhhh!!! The reality of a full time+ job and two kids' schedules sinks in. Though I have contrived amazing ideas of hand-cut, glued and sewn works of art culled from Pinterest that seem amazing in my mind… well, when it comes to execution, it's time to get real and just get a gift card. Gift cards, of course, are wonderful and useful gifts, except that in my psychosis it just doesn't ever seem personal enough… especially for that one special teacher who I know has been painstakingly planning her daily lessons, grading papers during her "relaxation" time, and patiently helping my kids curve their B's and S's in just the right way. So maybe this wonderful teacher deserves more than the 7 seconds it takes me to slap a gift card on the counter at the Walmart checkout.
And honestly, if YOU wanted to get a gift card, you wouldn't be reading my blog here! Not to mention the fact that you share in my psychosis, at least a little. So here is a list of several things I have put together for our teachers over the years. I included links to many items on Amazon to help you out!
1. Organizer filled with treats and/or supplies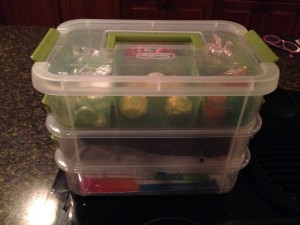 This one was funny once it was wrapped. Was it a tackle box? A bird cage? (Real guesses from my kids' teachers). But wait, it is an amazingly wonderful thing! I purchased a Sterilite Stack-n-carry organizer box — then filled in with sweets on the top 2 layers and teacher supplies (scissors, pens, magnets and other goodies) on the bottom layer. (See how I put this one together here in my post The Teacher Box of Awesomeness). About $25-$35 filled.

2. Beach tote and gear
An inexpensive beach tote filled with a beach towel, sunglasses, an insulated travel mug or water bottle, floppy straw hat, sunscreen and other beach goodies turned out to be very fun and well appreciated. My 5YO daughter suggests a beach ball would be a good addition. Check late spring sales and you can really fill up the bag with some nice things. About $40-$50 filled.

3. Cozy Blanket
I love blankets, and now I know that teachers do, too. One teacher commented to me this Christmas that she was still using the one we got her LAST Christmas. Here is a link to a lovely blanket. About $15-$25.

4. Chocolate
So, this idea is not so original, but I once read a great post that said if you give Chocolate, give the good stuff, and I agree. It doesn't even necessarily need to be the most expensive; just find out what your teacher likes — she could be a Reese's fanatic. Of course, a box of good chocolates with a gift card attached to the box can personalize the gift card gig, especially if you tune in to what kind of chocolate your teacher enjoys. You could even go for a lovely bag of Godiva coffee. $15 and up

5. Initial or personalized gifts
An initial or other personalization is one of the most thoughtful things you can give, and you can go first or last name with this one. Just try to avoid The Dreaded Ceramic Mug. Well, unless it is really super duper cute. I have found initial-clad totes, ornaments and purse hooks. The purse hook is unique and went over well with our Pre-K teachers! About $15.

6. Movie-themed basket
Purchase a gift card to cover two tickets to a movie, then place in a red-and-white popcorn tub with a few other movie-themed items for watching movies at home (some ideas: box of microwave popcorn, popcorn seasonings, cookies, Cracker Jacks, and bags of candy like Good-n-Plenty, Dots, Skittles) About $30-$40.